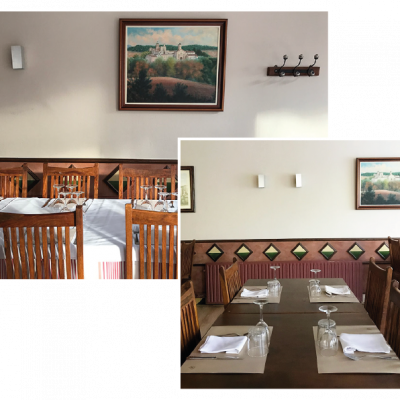 In our restaurant, you will find a quiet and familiar atmosphere, without big luxuries, but making sure you feel good and have an enjoyable and relaxing time.
OPEN
We are open from Wednesday to Sunday for lunch.
CLOSED
We are closed on Monday and Tuesday for weekly resting.
Our dishes are typical of traditional Catalan cuisine, made with natural and seasonal ingredients. Many of them are home-grown, as we have an orchard near the village, cooked with patience and lots of respect.
You can also taste local products such as wines and cava from nearby wineries, artisanal sausages, Alt Camp nuts, honey from Gaià Valley… Grilled meats, salads, stews, wild boar civet, paella, mushrooms in season, homemade jams and cakes…
Near Santes Creus, in La Romanguera, we grow many of the products we use in our kitchen.
Tomatoes, lettuce, potatoes, cabbage, spinach, onions and calçots, fruits to make our homemade jams…
Healthy, natural, and organic ingredients are harvested when they are ready.
Direct from the garden to the kitchen.